SRDBA Regional Championships at the Sarasota Dragon Boat Festival
Saturday, 27 October 2012
Pan Am Dragon Boat is very excited to host the 1st Championships for the Southeastern Region!  This event will be combined with the Sarasota Dragon Boat Festival at Nathan Benderson Park on October 27th and 28th.  The Sarasota Dragon Boat Festival will be held only on Saturday, October 27th during the Regional Championships.Teams and the individuals on their rosters both must be members of the SRDBA to be eligible to participate in the Regional Championships.  Information on Club (team) and Individual membership can be found at www.srdba.org.
Racing will be offered for the following racing classes:



| | | |
| --- | --- | --- |
| Premier Open | Premier Women | Premier Mixed |
| Senior A Open | Senior A Women | Senior A Mixed |
| Senior B Open | Senior B Women | Senior B Mixed |
| Senior C Open | Senior C Women | Senior C Mixed  |
| Junior (U18) Open | Junior (U18) Women | Junior (U18) Mixed |
| Breast Cancer Survivors | | |
*Minimum of 5 crews in a racing class must be registered by September 1st to be presented medals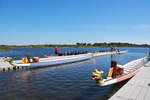 Each Racing Class will be contested across 4 distances – 200m & 1000m on Saturday and 500m & 2000m on Sunday.  Medals will be awarded at each distance, for each racing class*, and the Regional Champions will be awarded based on your team's medal count.
Teams can participate in Sunday racing only, and will still be eligible to win medals, but will not be eligible to win the Regional Championship trophies.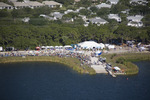 Nathan Benderson Park is a beautiful, natural racing facility that is currently being transformed in a future world-class rowing, paddling and other watersport facility.  The project includes extending the lake to accommodate 2000m racing for rowing events, buildign a 25-acre island, docks, boathouses, grandstands and a multi-million dollar finish line tower.  The project is under way currently underway, with the final phase expected to be complete in 2015.  WATCH A VIDEO about the project!
$1,000 for a single entry
$900
 per entry for clubs with entries in multiple racing classes
$550 
for Sunday racing only, per team
Please join us in Sarasota, Florida for the innaugural SRDBA Regional Championships on October 27th and 28th, 2012!  The world-class waters await!!